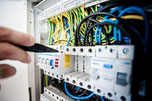 At the core of a Unified Wireless network is the hardware controller, which centralizes and controls all aspects of access point provisioning and management. Once the APs are discovered by the switch/controller, the administrator can push a specific set of configurations onto them, rather than having to do so one by one.
In addition, RF resource management and security are also managed centrally, thus allowing the administrator to preemptively identify potential deficiencies and weaknesses in the network.
Features Of Unified Controller:
Centralized Management.
• Wireless controller clustering.
• Auto channel selection & RF
• Automatic RF Management.
• Seamless Roaming.
• AP Load Balancing.
•        Captive Portal & wireless intrusion detection